In Pilbara, Western Australia, a team of tradeswomen teach young women how to build a wooden box.
The project could change the course of their professional lives.
"They learn 11 basic tools and it's not about the wood we use, it's the 11 tools all trades use," said Fiona Shewring, founder of Supporting and Linking Tradeswomen (SALT).
The workshop is part of the SALT tour of over 20 schools in outback Western Australia, where it aims to encourage more girls to consider trades and apprenticeships.
The volunteer group has hosted nearly 500 people across Australia over the past decade and says it is seeing results.
"We were in Cobar and Broken Hill recently and had been back a second time a few years apart and they told us five or six girls had entered the trades after us," Ms Shewring said.
"I was like, 'Okay, they're both industrial cities' and I thought, 'Maybe that's why there are so many opportunities?'
"But then we also went to Gundagai and it's not an industrial town, very agricultural and the same thing happened, so we know it works."
According to data from the Australian Bureau of Statistics (ABS), women make up around 16% of Australian trade and technical workers.
According to Apprenticeship Support Australia, although the number of women in the trades is growing, they only make up 3% of all electricians and 1% of construction workers.
"We are at the starting point for change and awareness," said Charlene Vaughan, head of the women's mentorship program, of efforts to encourage Australian women to enter the trades.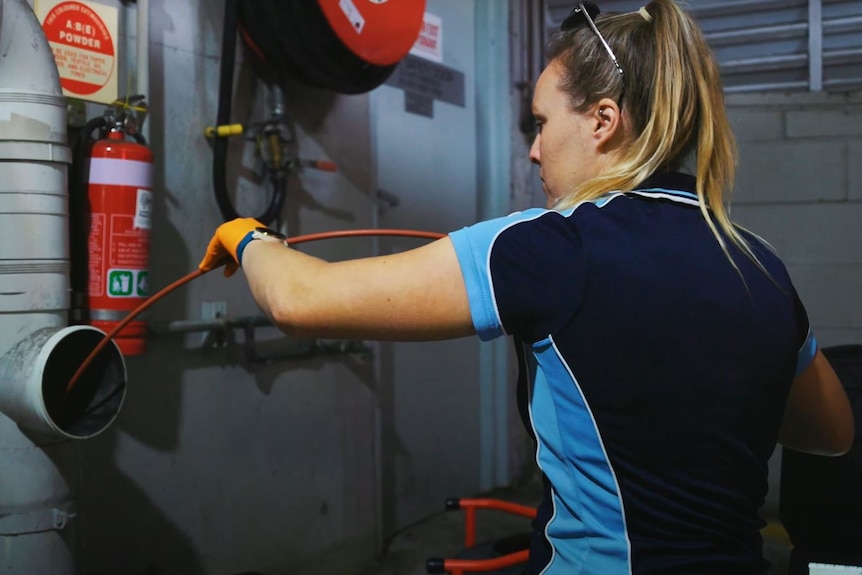 Ms Vaughan said women who see other women in trades in person or through the media have an effect.
"Girls who have done a job, the tendency is that their parent was a job so they are already exposed to it.
"We need girls in front of strong women who aren't afraid to get dirty, we need more role models in front of young women."
The Department of Employment and Workplace Relations says increasing the number of women in training, particularly in higher-paying business careers, is a key priority for the government.
He invested $38.6 million in the Women in Trades initiative and pledged to set goals for women working on major projects.
The department cited gender norms, a lack of career advice on trades and culture, and workplace support as reasons contributing to occupational gender segregation.
"What we said to students today and we say to all students we work with is, 'If you get into a trade, you won't be out of work,'" Ms Shewring said.
"A job has no sex."