A Flintshire family has announced that their five-year-old son, who was diagnosed with a brain tumor during the 2020 lockdown, has come back with the disease.
Aaron Wharton recently relapsed an anaplastic ependymoma brain tumor.
In April 2020, then four-year-old Aaron was diagnosed with a rare, aggressive form of brain tumor, just as the UK was coming to terms with a national lockdown caused by the COVID-19 pandemic.
Since then, brave Aaron has undergone brain surgery, radiation therapy, and a gastrostomy-feeding tube.
Aaron appeared to be recovering well, but in June 2021 his routine MRI scan showed a new, large tumor growing in the same location as the original one.
His mother Nicola said, "It was a massive shock as there was nothing physically to make us believe something was wrong.
Aaron thrived in school and was almost back to what he was before he was diagnosed. He was just amazing and had fun like any normal five year old boy. "
Doctors said Aaron's cancer was more aggressive than originally thought because it came back quickly after treatment.
On June 17th, Aaron was operated on at Alder Hey Children's Hospital in Liverpool.
The tumor was more complex than the first and grew in spaces left over from the previous surgery.
After 11 hours the operation appeared to have been successful and the tumor removed.
Aaron stayed in the hospital for five weeks after the operation.
He had difficulty speaking and swallowing, and had to feed himself through a feeding tube.
Fluid had also collected on his head, so that his wound had to be reopened to create a temporary drain.
Aaron had another MRI scan before he was released from the hospital, which was cause for concern.
The scan was repeated four weeks later and confirmed that a new tumor had grown significantly within a month.
On August 26, Aaron successfully underwent another operation on Alder Hey that removed the entire tumor.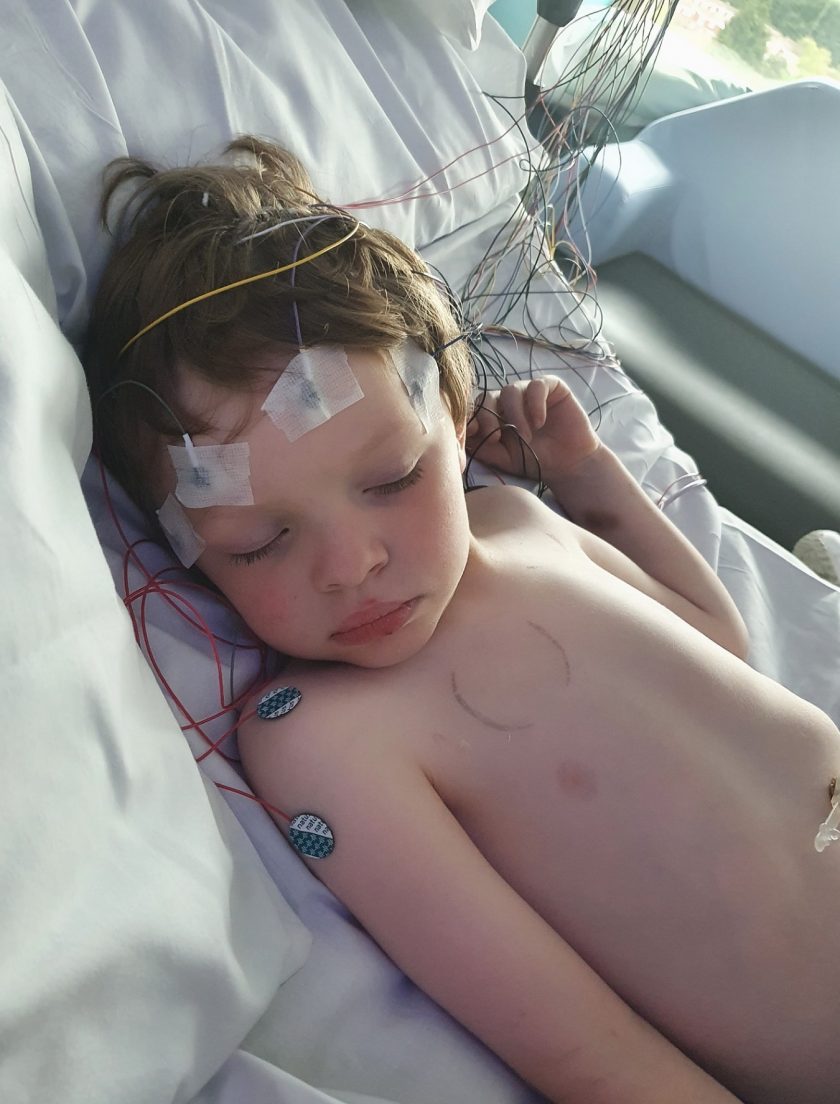 The previous tumor, which was removed in June, was sent away for testing.
It was categorized into 'A Group', the worst prognosis.
It also tested positive for an increase in 1q, a marker of gene variation that causes aggressive mutations.
Nicola said: "This means that Aaron's chances of recovery are less than 5%. We are absolutely broken. To think that someone so little could go through what Aaron went through is unthinkable. "
"Nor can I understand why more funds are not being devoted to brain cancer research, especially when you consider that more children and adults under 40 die from this disease than from any other type of cancer. "
"I am committed to raising awareness of the problems associated with brain tumors by experiencing firsthand the havoc they wreak."
"You can't even tell us how long we'll stay with him because it's so unpredictable. "
"It's just a really difficult thing to listen and try to take it all in and then make sense of it."
"At the same time, you are trying to be strong for Aaron and not show that you are upset or worried."
"We have to take every day as it comes. We're just going to try to do as much as we can as a family and just try to carry on as usual. "
"We just want him to have as much fun as possible, as long as he is well enough. We'll just give him anything he wants. Whatever he wants to do, we will do. "
"He really enjoys going to the zoo, so we will definitely have a lot of visits to the zoo. And he loves Lego, so we'll try to organize a trip to Legoland. We do everything that puts a smile on his face. "
The devastating update comes as his family partners with charity Brain Tumor Research to share their story of heartbreak this month, Childhood Cancer Awareness Month (CCAM).
Joe Woollcott, Community Development Manager at Brain Tumor Research, said, "By telling Aaron's amazing story, the Wharton family is underscoring the devastating consequences of being diagnosed with childhood brain cancer. To hear that a young person has been diagnosed with a brain tumor is harrowing.
"The hope lies in the research of the Centers of Excellence for Brain Cancer Research, which will help us move closer to a cure."
"But while the money continues to come from activists and fundraisers, it is coming from the UK public, and we need more commitment from the government and larger cancer charities to fund the discovery science that will deliver the innovations we need in our region . "."
"Only through joint, well-thought-out work can we achieve the results that we urgently need."
According to brain tumor research, more children die from brain tumors than from any other type of cancer.
Their research shows that:
Brain tumors kill more children than leukemia
Every third child who dies of cancer dies of a brain tumor
Diffuse intrinsic pontine glioma (DIPG) is the deadliest form of childhood cancer with a median overall survival of between eight and twelve months
Medulloblastoma is the most common type of high-grade pediatric brain cancer and is more common in boys than girls
Brain tumors kill more children and adults under 40, but historically they have only received 1% of national cancer research spending
To learn more about our Childhood Cancer Awareness Month activities, including how you can donate and help brain tumor research move closer to a cure, please visit: Childhood Cancer Awareness Month (braintumourresearch.org).
Discovered something? Do you have a story Send a Facebook message | A direct message to Twitter | Email: [email protected]