Beyond university resources, community groups in the Northeast are working to improve the mental health of the student body.
Many student-run organizations, such as Active Minds and Lean on me northeast, promote or offer services that the university does not offer, such as peer support and open spaces to voice concerns and grievances.
Still students themselves, the leaders of these organizations understand the gravity of the mental health crisis in the Northeast while fighting for improvements in the administration of the university.
Active Minds is a non-profit organization focused on young adult mental health, with chapters in more than 600 high schools and university campuses at national scale. The Northeast chapter focuses on education around mental health, advocacy to improve mental health resources for students and self-care programs, according to its vice president MK Moskowitz.
"We are a community of people who care about mental health and many of us have had experiences with mental illness," said the second year history and international affairs major.
Throughout the semester, Moskowitz helped organize numerous mental health programs for students. Active Minds held its first virtual bereavement meeting on December 27 so students could speak openly and safely about the events of the semester.
"It was a very difficult semester for a lot of people, and we wanted to keep some sort of space. [A grief meeting] isn't something we've never done before because neither of us are clinicians, but we figured it was a peer support event, we might just have a space where people could talk about what they've been through over the past two months, "Moskowitz says.
Active Spirits also launched Break the silence, an Instagram account where students can anonymously submit their experiences with NU mental health services, call for change or receive community support. Moskowitz said this program was inspired by NEU speaks, a similar Instagram account providing a platform for survivors of sexual assault. However, the need for Break the Silence also arose out of a demand for evidence from the university.
"This past semester, myself and a few other board members met with the Northeastern administrator about the improvement. [mental health] Resources. Much of the reluctance we received was like, "Oh, we just don't hear that this is a problem, we need hard evidence or first-person testimonials from students having issues with it. mental health services on campus, "Moskowitz said. .
Active Minds is scheduled to meet with UHCS this semester to discuss their list of ongoing requests to improve NU mental health resources. These requests range from improve mental health training for teachers and staff to push the North-East to adopt the International accreditation of advisory services, or IACS, which would ensure the hiring of diverse and skilled clinicians, among other improvements. Moskowitz said that while the administration is receptive to meetings, it is difficult to enact changes.
"They are very, very nice people, but there is certainly a lot of resistance to change. I understand to some extent, it's a lot of nodding your head and saying, "that sounds good." And then there never seems to be a follow-up, "Moskowitz said. "There seems to be a desire to do better, but there seems to be so many institutional barriers in place that it becomes really difficult to do anything tangible."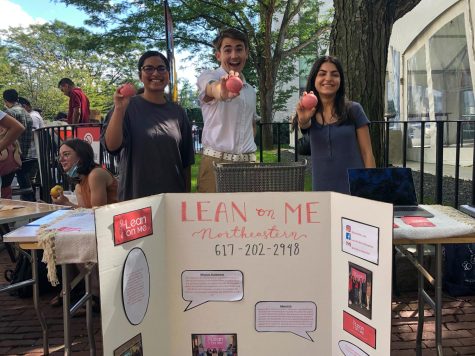 Other organizations on campus, such as Lean on me northeast, offer peer-to-peer counseling for students who need to talk to someone. The anonymous hotline allows members of the Northeastern community to discuss issues unrelated to the crisis with those who understand the pressures of being a student and with no time limit.
"We think it's a really unique resource because as North East students we have stuff like co-op, we have stuff like NUin, which is a bit difficult for an older person. to understand these problems, therefore the training of supporters, the training of students from the North-East to listen to other students build[s] better community and allows for more empathetic conversations, "said Brigitte Cronin, fourth year environmental chemistry and science student and Lean on Me chapter coordinator.
While Lean on Me awaits designation as an official campus club, members are already working with the university to expand access to resources on campus. Cronin explained that UCHS in particular has supported their efforts.
"[UHCS] have been very good advocates for us to get into campus because the people who work there are fantastic. … They recognize that there has been a problem with UHCS in the past and that there is still not enough access, staff and advisors for such a large campus, they recognize it and they want really provide as many mental health resources to students as possible. they can, "Cronin said.
But to implement these changes within UN mental health services, students had to mobilize. Hurley, who took part in the Active Minds survey, decided to create a petition in late December 2021 to share some of the survey statistics, as well as to call on the administration to improve access to mental health care on campus.
"
I'm quite skeptical of academia and administration, as I think a lot of people are. I went to this meeting thinking that I would need to change people's minds in the sense that I needed to make them understand that there is a lot of urgency behind this. But I didn't really need it, they knew it. There was a lot of listening.
– Jackson Hurley
"I think the petition has reinforced the fact that there are a lot of people out there who are really a little bit confused and upset with the way things are going right now," said Hurley.
In the first weekend, the online petition was released, it hit Hurley's initial goal of 5,000 signatures. Much appears to be from Northeastern students, both based on the comments left and because it was only published in Northeast circles. The message is resounding: students are ready for a change.
When the petition went around 600 signatures, Hurley got a call from Christine Civiletto, the executive director of UHCS. Hurley said she reached out because she saw the petition and wanted to speak up, a gesture that Hurley said proved a willingness to listen that he had never expected.
"I'm quite skeptical about college and administration, as I think a lot of people are. I went to this meeting thinking that I would need to change people's minds in the sense that I needed to convey to them that there is a lot of urgency behind this, "said Hurley. "But I didn't really need it, they knew it. There was a lot of listening.
Through that first phone call and the conversations that followed, Hurley said he wanted to share the students' perspective that administrators might be absent.
Hurley said he has now discussed some changes and solutions with administrators and, while it's not clear which ones will be implemented or when, Hurley said he hopes to get out of those conversations.